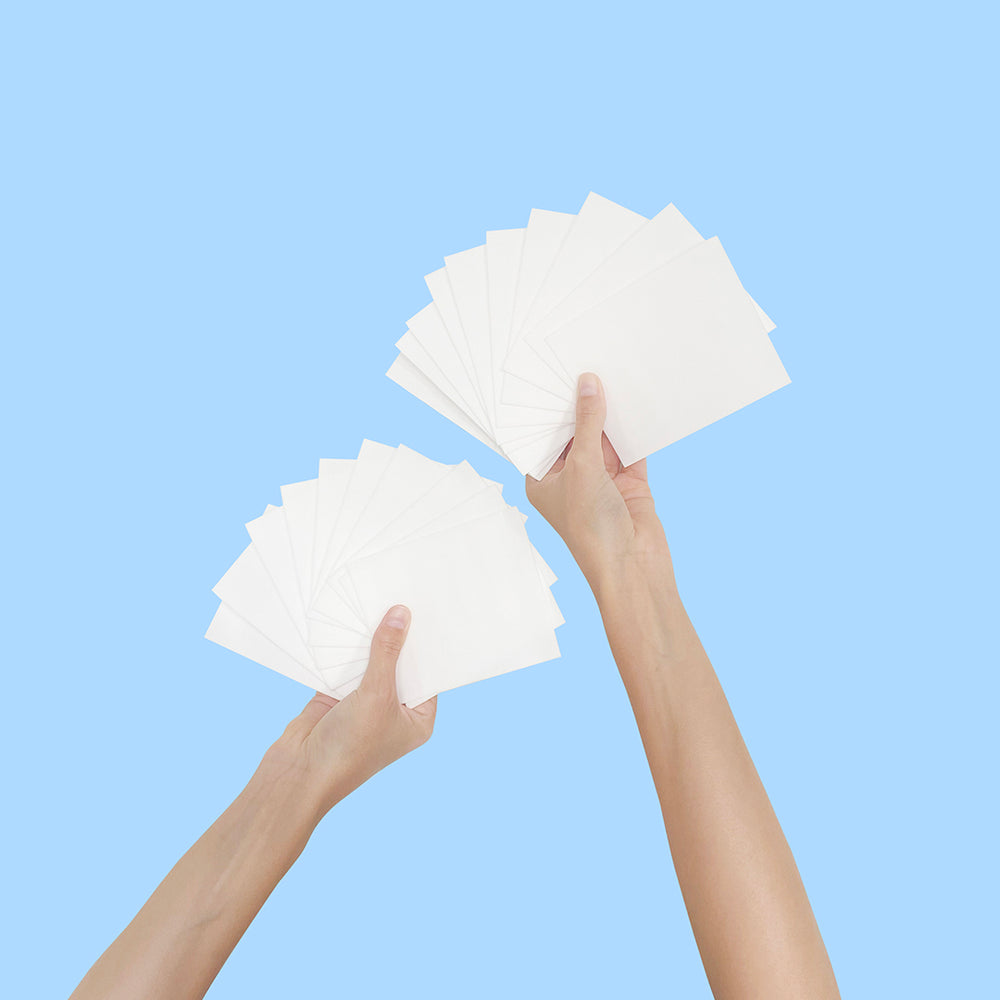 A delightful scent with blossoming floral undertones that ensures lasting freshness.
Incredible cleaning strength without any added scent. Ideal for sensitive skin.
Purchase Type
Delivery every 90 days
No contracts, cancel anytime
100% risk free, money back guarantee
Money Back Guarantee
View full details
If you do not absolutely love our laundry sheets, simply email us and we will refund you.
OUR
DETERGENT
Old Fashioned
Detergent
Compact, biodegradable packaging?
Free of parabens, phthalates, phosphates, bleach, and dyes?
Try it Risk Free
Money Back Guarantee

Try Bazoo laundry sheets at no risk. Don't like it? Get a 100% refund. No questions.


Paraben & Toxic Free

Free of parabens, phthalates, phosphates, bleach, and dyes.

Every Order Impact

Every time you buy Bazoo we protect 100m2 of endangered habitat.

We've got answers
How quickly do Bazoo sheets dissolve in water?

Our Bazoo sheets are designed for instant action, dissolving rapidly in both warm and cold water. They're suitable for all washing machines (including HE), and are also perfect for hand washing.
Can Bazoo sheets handle tough stains?

Absolutely! While Bazoo sheets are compact and eco-friendly, they pack a powerful cleaning punch. They're effective at removing everyday dirt and stains, as effectively as traditional detergent. For particularly stubborn stains, we recommend pre-treating the stain for optimal results.
What is the packaging of Bazoo sheets made of?

We prioritise sustainability in every aspect of our product. Our packaging is crafted from 100% biodegradable materials, ensuring minimal environmental impact. It's designed to break down in just a few months, but if composting isn't your preference, it's also fully recyclable.
How do Bazoo sheets compare in price to traditional detergents?

Our eco-friendly laundry sheets are competitively priced and offer great value. Given their concentrated cleaning power, you might find you need less product than with traditional detergents. Plus, smaller loads might require only half a sheet! Check out our price comparison chart above for a detailed price breakdown.
What fragrances do Bazoo sheets come in?

We offer a fresh linen scent that leaves your clothes smelling divine and a fragrance-free option for those with more sensitive skin. Our fresh linen scent is a gentle aroma that's not overpowering or synthetic, ensuring your laundry feels fresh and clean.
What are your ingredients?

Glycerol, Primary Alcohol Ethoxylate, Sodium Dodecyl Sulfate, Sodium Acetate Trihydrate, Polyvinyl alcohol, Polyethylene Glycol, Fragrance, Deionized Water, and Starch (Corn). All vegan & cruelty-free!
Is this suitable for sensitive skin?

Yes definitely. Both our scents of Bazoo's detergent sheets are non-bio & suitable for sensitive skin. If you have extremely sensitive skin, we would recommend you opt for the fragrance free option.
I have a query or issue with my order. How can I reach out?

Absolutely! We pride ourselves on our responsive and helpful customer service. If you have any concerns or questions, please email us at support@wearebazoo.com, and we'll address your issue promptly. Our team is here to ensure you have a delightful experience with Bazoo.